Popularity Tool – Quantity of Links to you & Competitors
After 2-3 days from using the configurator you will see your account has been populated with data. In the BMW account we can see Volkswagen is the most popular website.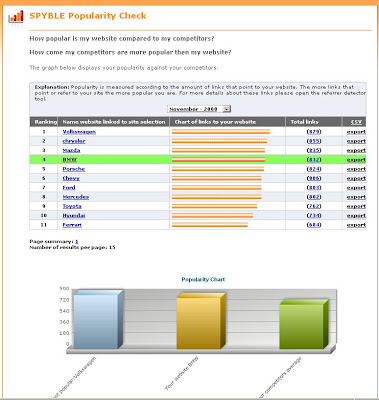 What does most popular mean?
Most popular does not mean you're going to be at the top of google! What it means is that it has the highest QUANTITY of links to the respective website (we'll get to quality in the next tool). So, are you the most talked about on the web? Are you the cool kid in high school? Same idea, the Spyble Popularity Check will track sites link volume.
BMW is number 4 and behind number 1 Volkswagen by 45 links to become most popular.
Export the Data & Track Monthly
Export these links into a CSV file to better analyze and track your competitor's links. You can also use the drop down menu to see your progress from month to month.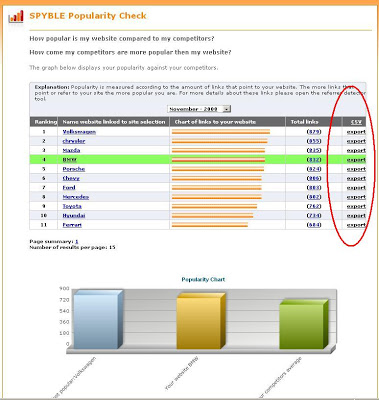 The easy to use chart below also shows the most popular site, your site, and the competitor's average. Hone in on your competition and monitor their every link they add. Grow as they grow and master their link trading strategy. Build a plan, highlight the exported data and start today!