SPYBLE – COMPETE FASTER – corporate email
Bas Sluitman writes our motivational internal email, pasted below:
Dear All,
A lot has happened in a very short time and will try to summarize it.
This is the first time we send out a SPYBLE progress email. We apologize for not sending any updates sooner.
The deadline for the system is October 19 2008. Currently we do not have any serious issues delaying progress.
I want to send out a weekly progress email to keep all stake holders up to date about what is going on with and around SPYBLE.
The email will contain an overview of project progress, issues and any changes that arise during final development of SPYBLE.
As this is the first progress email I would like to give you a brief introduction the core project team organization and members,
Project manager: Bas Sluitman
Assistant manager: David Ho
Lead Technology: Marco van der Laan
PHP Programmer: Tommy Tang
Interface programmer: Alla Liu
Marketing and Sales: Michael Michelini
I do not have pictures from everyone but here are some pictures so you can see what our project room looks like and how we work.
These pictures are from the office startup so we were still getting organized.
This is picture of Tommy our PHP programmer.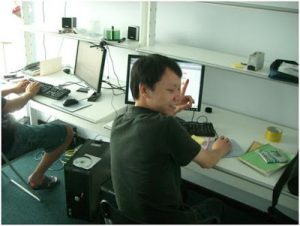 View of the project office with David Ho the project assistant working.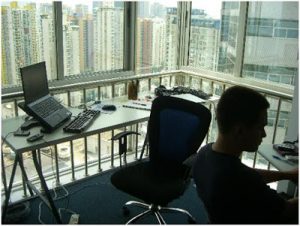 We will send some more pictures and information about who is who in following emails.
Also you can look at http://blog.michaelmichelini.com/ where Mike keeps his blog.
The office startup went very smooth.
We looked at several offices in the Hai Wang building (Neptune building.) Selected the office we all liked the first time we walked in it was love at first site.
The office layout was exactly what we were looking for and we could move right in (after some minor refurbishment)
Thank you Ivan and Sophie for dealing with all office matters so quickly and working so hard to get the office ready in such short time.
After our furniture was delivered we ordered our development hardware from Dell and a week later we were ready to install and implement all soft and hardware needed to start work.
This is also the same period we started recruitment looking for one PHP programmer and Interface programmer familiar with PHP and Ajax. It turned out this was not as easy as we initially thought.
There are not a lot of PHP programmers in Shenzhen China and the ones we found we could not afford. However I was able to talk to some of the IT companies I have worked with in the past and
Surely we found exactly the right people we were looking for.
Working on a system that has originally been designed in Netherlands built in India and enhanced in China is not easy. Especially if you have not been involved form the beginning.
It means looking through other peoples coding, database and comments. Marco who is based in the Netherlands has been analyzing the code and database for the past few months.
He has made some changes to better organize the system and create a more secure environment for our users.
Also we are using Marco's hardware to host the live environment of www.competitor-analysis.com (current system will not say too much about this in this mail please check the site for more info)
And SPYBLE. The server is hosted in the Netherlands.
Tommy is very excited about the project and interested in SEO, SPYBLE and the technology behind it. He has been working and studying hard to get familiar with the system, code and database.
He has many years of experience developing in a Linux, Apache, MySQL, PHP (LAMP) environment. Marco and Tommy communicate daily using Skype and email. So far this has been going very well. Tommy does not speak English very well but writing and reading is no problem.
Alla Liu is our interface programmer and graphics designer she joined SPYBLE last week and is already working hard on some interface issues we really needed solved.
She is very experienced using photo shop and dream weaver also she has very good knowledge of PHP, MySQL and Linux.
The office right now houses Top Notch Technologies and SPYBLE. Top Notch Technologies is Ivan's newly founded BPO company offering different technology and BPO services.
Right now we have about 10 people working in the office.
This is it for now. I hope you guys can send me some feedback about what you would like to see in this email every week. Hope to hear from you all and am looking forward to getting some feedback and interaction on these emails .
Best Regards
Bas Sluitman